Ask Zellerfeld CEO and co-founder Cornelius Shmitt about shoes, especially 3D printed ones, and you will not regret it. The young German engineer and entrepreneur has a hungry optimism that is absolutely infectious, something felt by the entire Canvas team since his company began operating out of our offices in Williamsburg earlier this year.
Zellerfeld is an American-German company that 3D prints footwear. While companies like Adidas and Reebok manufacture sneakers with singularly 3D-printed components, Zellerfeld is printing entire shoes —sole, midsole, and upper— all in one print.
Cornelius has always loved shoes. With the "most extravagant shoes on the schoolyard," polarizing opinions created amongst his peers demonstrated to him the power of shoes as a non-verbal form of communication. "Shoes can show so much. For me, it was all about individuality and expressing that I wanted to be different," says Cornelius.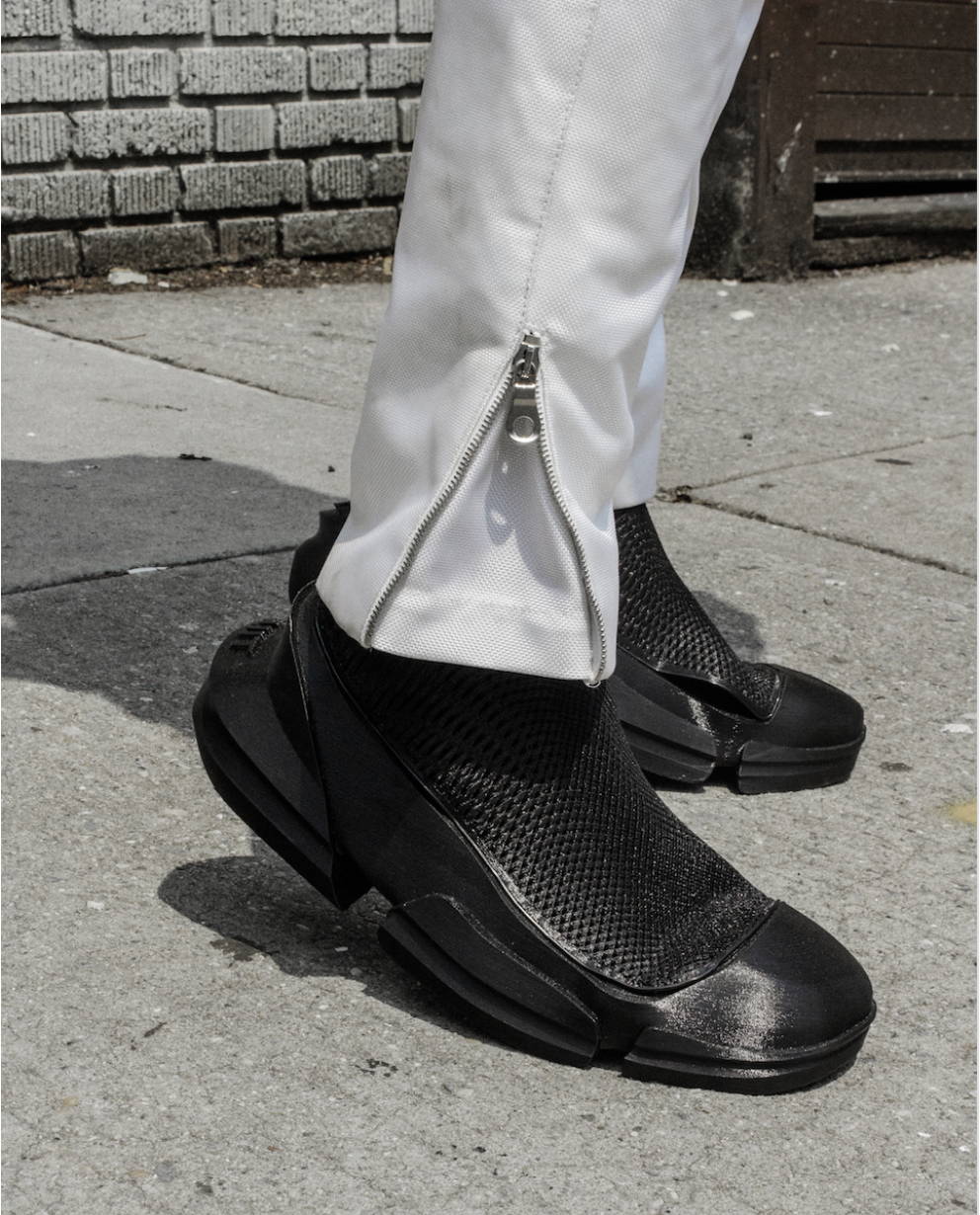 The Earth Suit Shoe by Querencia Studio x Zellerfeld
Head of 3D printing Peter Graeff has a similar passion for shoes as a medium for self-expression. A love for Jordans and cushioning technologies like EVA soles and boost material had him talking constantly about sneakers, and he found that his admiration for footwear resonated with others. He was and still is amazed by the emotions that this beloved necessity-turned-commodity can trigger.
Together, Cornelius and Peter are striving to share that power of shoes with more people than ever by democratizing the footwear industry through 3D printing.
Attracted to 3D printing for its ability to create something out of seemingly nothing, Cornelius began building a 3D printer and materials business while he studied industrial engineering at the Clausthal University of Technology. He identified the potential for 3D printing technology to streamline almost any industry–– namely, that of shoe production.
"Once you start to understand the footwear industry, you realize that many processes are very outdated. It is still very much dependent on manual labor, which leads to worker exploitation in low labor cost countries. Although being produced in those low-cost countries, shoe production is still capital-intensive. You need big machines, expensive molds, lasts, and much more, incurring many hundreds of thousands of dollars," explains Cornelius. With extremely high minimum order quantities, footwear production is blocked off to all but a few large corporations. "This leads to a very inefficient capital allocation where trends have to be anticipated, which often doesn't work. The planet is left with overproduction of billions of shoes that never find a customer and have to be burned."

To address these problems, Cornelius spent over three years developing 3D printers out of his basement in Clausthal-Zellerfeld. The result is unlike any other 3D printing technology in the world.
Shoes 3D-printed by Zellerfeld are based on a 3D scan of your foot. They are custom made-to-order locally and ready within 24 hours. There is no overproduction, no shipping, no expensive molds or machinery, no risk of exploitative working conditions, and no waste. In fact, when you wear out your shoes after months or years, all of the material can be recycled and used for another print.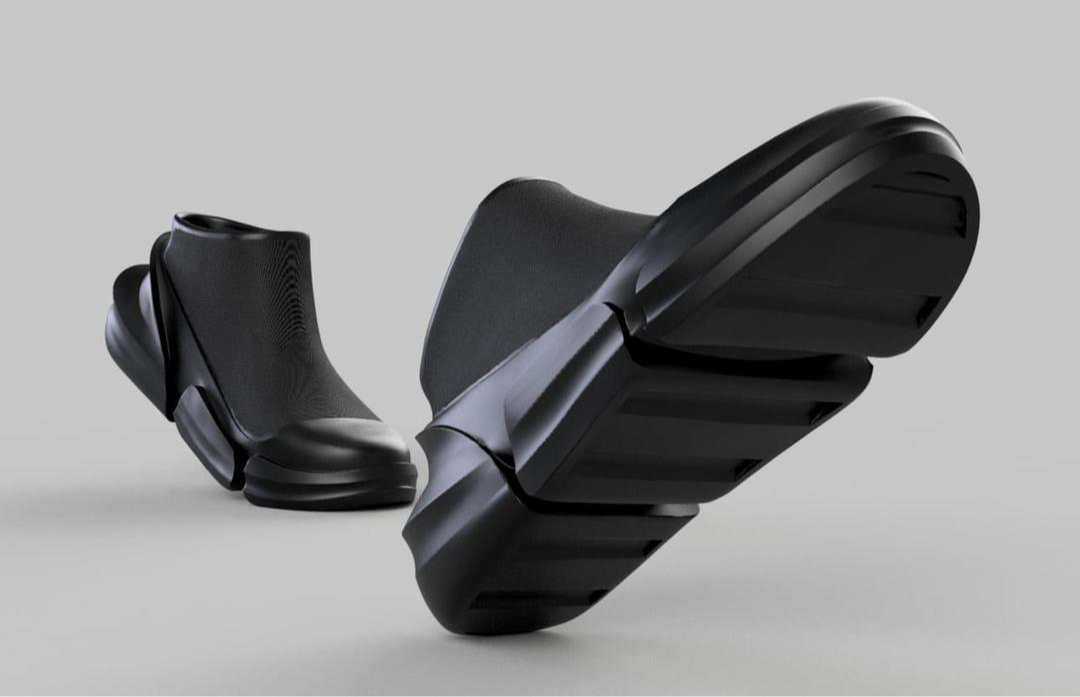 The Earth Suit Shoe by Querencia Studio x Zellerfeld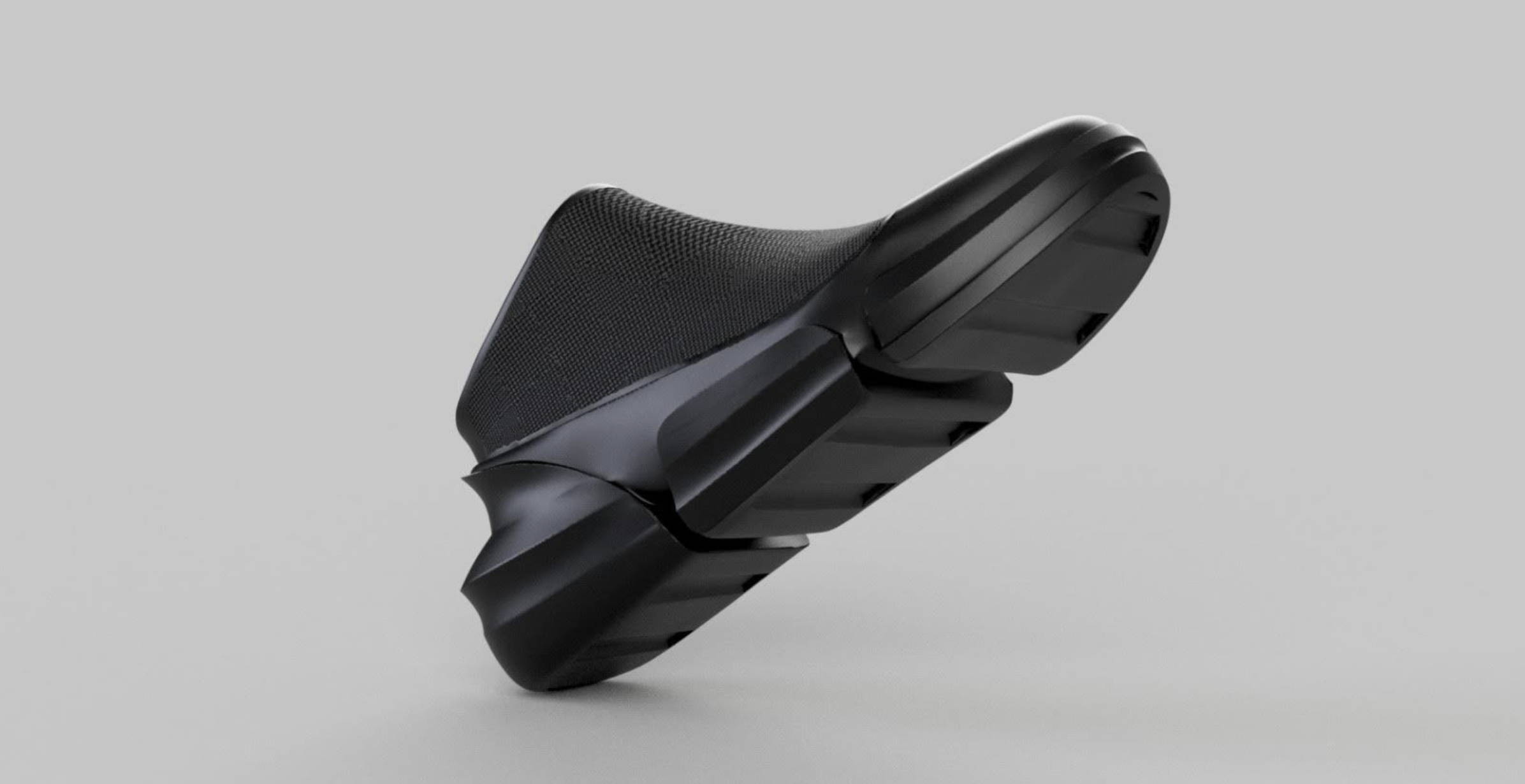 The Earth Suit Shoe by Zellerfeld x Querencia Studio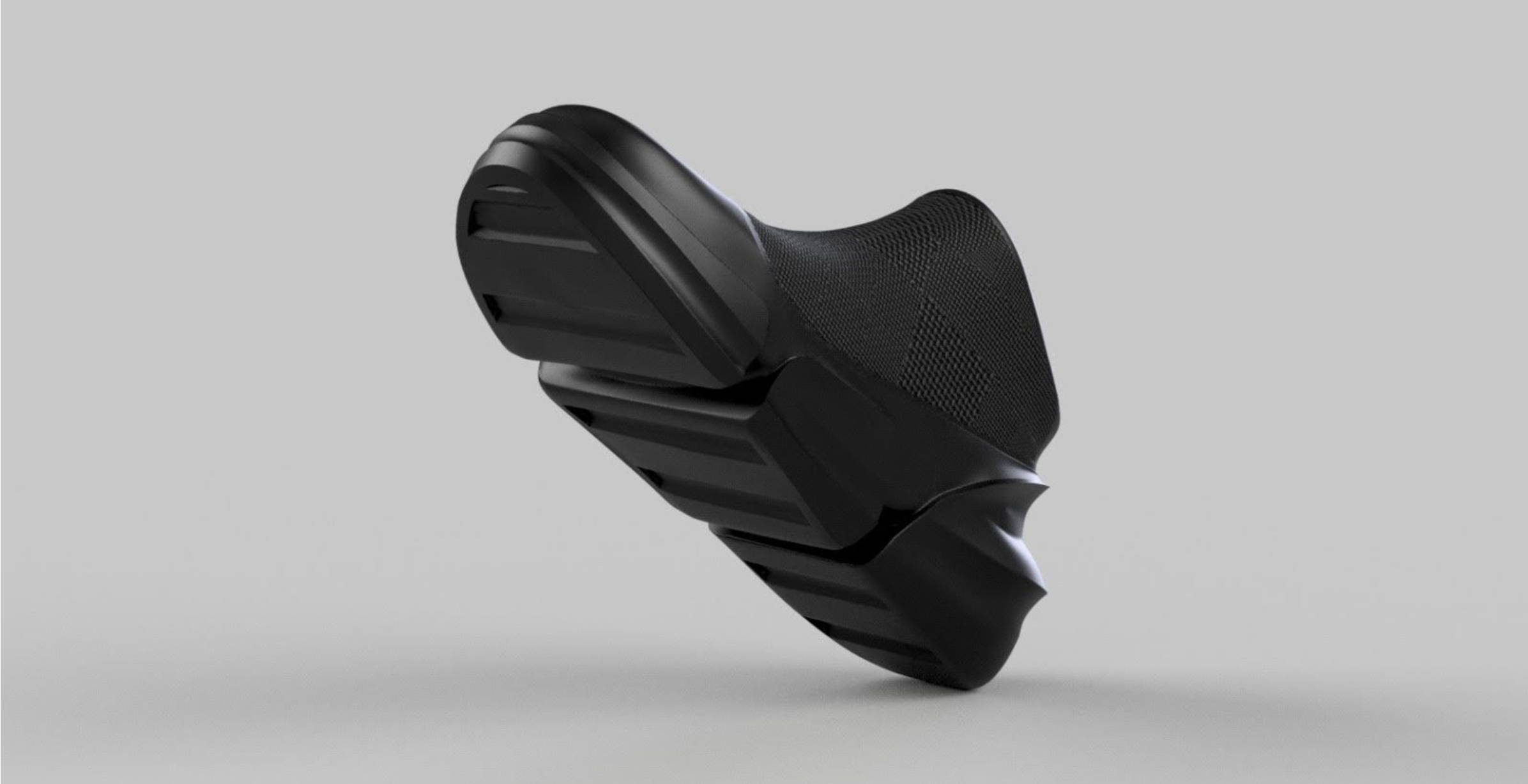 The Earth Suit Shoe by Zellerfeld x Querencia Studio
"Last but not least," says Cornelius, "by printing footwear instead of producing it in traditional ways, designers can for the first time be free in designing what they love. They can easily build their brand without risking huge upfront costs for molds, shipping, and high minimum order quantities." In this way 3D printing unlocks an unprecedented freedom of design and wear; the designer faces no restrictions on what can be printed, and there is customization to the individual's needs that conventional production simply cannot provide. "As individualists, this makes us super excited, and we believe it will have a profound impact on our economy as well as society."
For the superior fit, form, and function of Zellerfeld's product, Cornelius gives all the credit to Peter, who he calls, "the single best thing that has happened to the company." Influenced by his father, a shoemaker himself, Peter has been sketching footwear designs since childhood. After completing professional training as a shoe finisher and shoe engineer, Peter worked for Fagus-Grecon, one of the most prominent shoe last factories in Europe. During his time there, Peter forged the fit and shape for many well-known German shoe companies, including adidas Yeezy. But he left all that behind to work with Cornelius here in New York after the duo bonded over beers, Jägershots, and a shared zeal for footwear.
Since then, Cornelius and Peter have been at the Canvas, often in the middle of the night, steadfastly improving their 3D printers and 3D printed shoes.
Their first shoe to be released for sale is created in partnership with Querencia Studio for the Earth Suit Project by lead designer Kate Walz.
"When Kate sent us her first design drafts, we immediately started 3D modeling the shoes. This was a very collaborative process," states Cornelius. "After I refined the model's fit and functionality, we were able to start the first printed prototypes. When Peter joined in May, he realized that there were still many improvements to be made." They spent the summer doing just that, and in July Zellerfeld and Querencia Studio were pleased to release customization reservations for the Earth Suit Shoe to take place in the fall and winter of 2019/2020.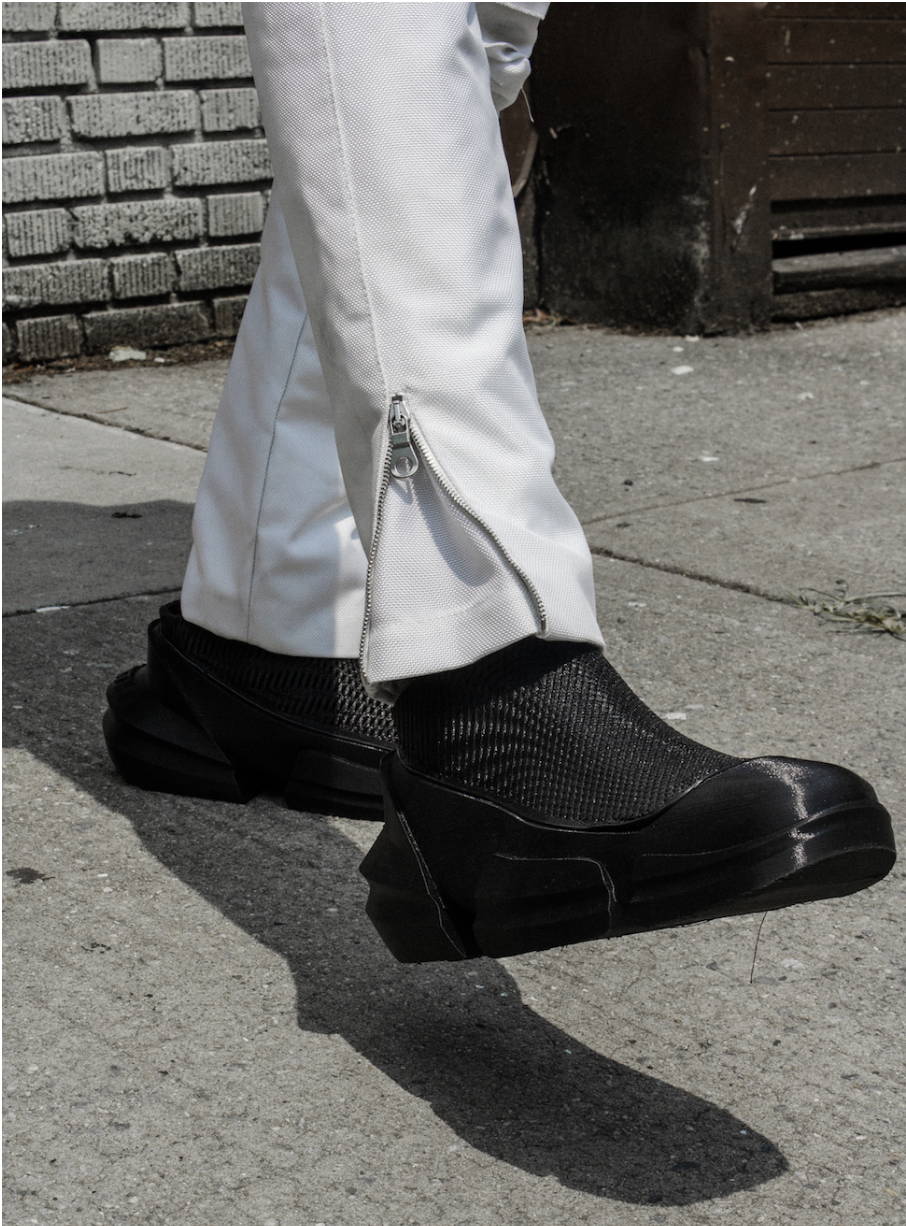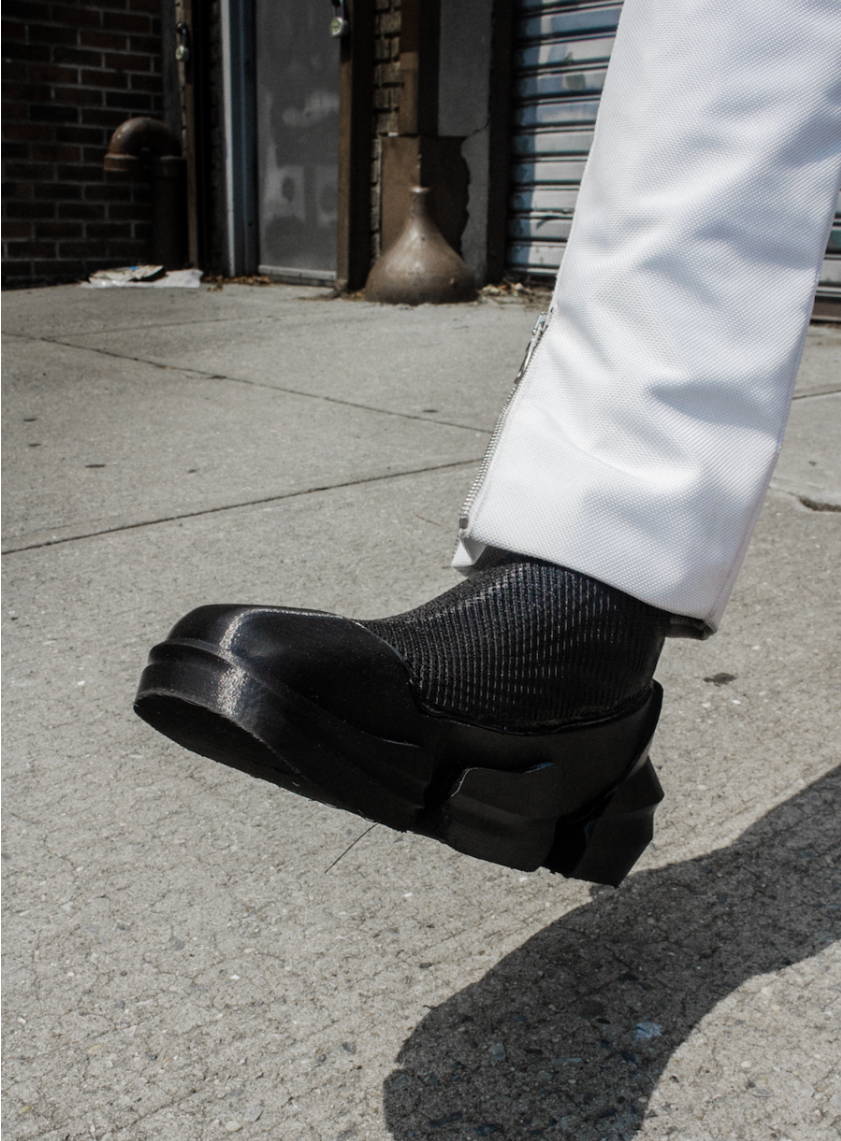 The Earth Suit Shoe by Querencia Studio x Zellerfeld
"We feel incredibly lucky and thankful that we were chosen to be part of Kate's Earth Suit Project by Querencia Studio. It is a project that excites us very much and the people behind the Canvas make us enjoy every single day. It is a mutual feeling of trust and we feel a circle of safety between Querencia and Zellerfeld. Besides, it is great to work with equally hard-working young people who want to change the world and solve society's most challenging problems. Working towards a better future can be very motivating, and for me and Peter it gives us an even stronger purpose in life."
There's that hungry optimism I was talking about.
Looking forward, Cornelius maintains a perspective on Zellerfeld's goals and challenges that is equally sharp.
"The last years have been governed by our focus on our product. Now it is time to transfer it into a profitable business. We still must prove that we can make better footwear than what is available in the market by printing it. In addition to that, we must show that this operation is scalable, which is harder than we thought when printing cycles are still around 24 hours per shoe. In the meantime, it is our goal to become better in communicating our goals so that designers understand easier how we can help them turn their dreams into reality. Our vision is that every shoe in the world will be a 3D printed one."
Meet the team changing the future of footwear for yourself and get your own pair of the Earth Suit Shoe by Querencia Studio x Zellerfeld by reserving a customization consultation now. Spots are limited.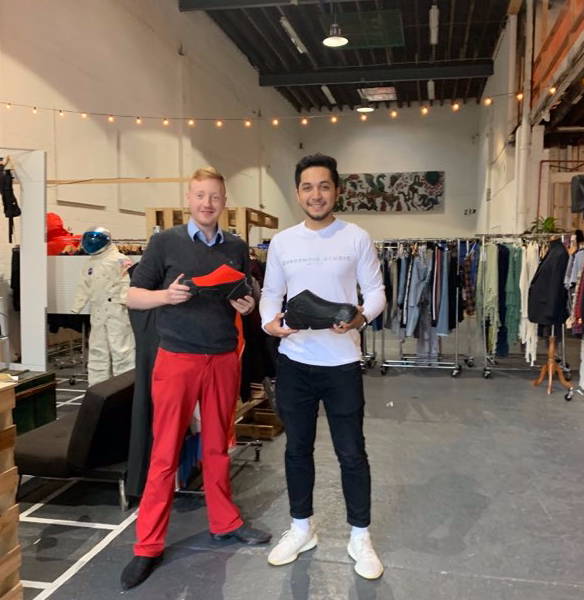 Cornelius Shmitt and Peter Graeff